Lentisk - Pistacia lentiscus - Mastic tree (anacardiaceae family)
Characteristics and uses: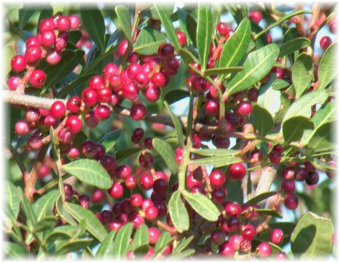 Pistacia lentiscus is a evergreen shrub, or small tree growing up to 4 mt. (13 feet) tall, sometimes more, with separate male and female plants, with intense balsamic scent, a strong smell of resin. Lentisk is native throughout the Mediterranean region, and to the Canary Islands. It is a very typical species that grows in dry and rocky areas in Mediterranean, mixed communities of myrtle, Mediterranean dwarf palm, sarsaparilla, kermes oak, juniper, phillyrea and wild olive tree. It presents very small flowers; the fruit is a drupe, first red and then black when ripe. From the drupes, it can be made an oil, much more flavoured and scented as olive oil.
Etymology:
From the latin "lentiscus" "lentiscum", perhaps it comes from "lentitia" (flexibility, elasticity). The word mastic derives either from the Greek "mastichein" (to gnash the teeth), origin of the English word "masticate", "ormaissen" (to chew).
Other uses:
Scoring the trees' bark, with small cuts on the main branches, the mastic resin weep out: it is an aromatic, ivory-coloured resin, known by the name "Chios tears". When chewed, the resin softens and becomes a bright white and opaque gum. Within EU, mastic of Chios is granted protected designation of origin, and protected geographical indication names. Mastic gum is used either as a flavouring or for its gum properties (chewing gum), or in the production of cosmetics (toothpaste, lotions, perfumes, cosmetics). As a spice, it is used in Greece and Turkey to flavour spirits and liquor (such as Mastiha, raki), cakes, ice cream and dessert, and in the baking of bread. In recent years, university researchers have demonstrate the scientific evidence for the medicinal properties of mastic: mastic essential oil has antibacterial and antifungal properties; mastic can heal peptic ulcers by killing Helicobacter pylori and can reduce bacterial plaque in the mouth. It is very expensive.
History and folklore:
Mastic is known to have been popular in Roman times: children chewed it. It was the earliest use of mastic. During the Ottoman rule of Chios, mastic was worth its weight in gold. Lentisk use in Sardinian and Mediterranean tradition dates back centuries: it was and it is appreciate for its unique natural qualities.
**** Erbe Matte cannot take any responsibility for any adverse effects from the use of plants. Always seek advice from a professional before using a plant medicinally. *****
**** No tricks: we simply harvest mastic during the summer, we wash it manually, and we set it aside to dry, away from the sun. ****