Your children will love this recipe: it's a great trick to make them eat vegetables...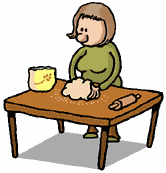 VEGETABLES PATTIES WITH THYME
Ingredients: 4 servings
2 potatoes (1 pound), cleaned
3/4 zucchinis (10 ounces), washed
2 eggs
5 tablespoons grated parmesan
2 tablespoons finely chopped thyme, if fresh, one and half if dried.
fresh bread crumbs, as needed
Salt and pepper, as needed
Oil for frying as needed
Preparation:
Boil potatoes in salted water, until tender. Drain them, peel and mash, or pass through a potato ricer. Grate fresh zucchinis into a bowl: add mashed potatoes, salt, 1 egg, parmesan, some pepper, thyme. Stir to combine. Divide mixture into small portions, shape each portion into ball, then press lightly to form patty. Place the other egg in a bowl, whisk with some salt to blend. Place breadcrumbs on a large plate. Coat patties first in egg, then in breadcrumbs, pressing to adhere. Heat oil in a large skitter over medium heat. Working in two batches, cook patties until slightly brown, a few minutes per side.