A small and out of the ordinary camping site, truly glamping style, on a human scale, is awaiting for you on the beautiful island of Sant'Antioco. Right now Sant'Antioco is a pleasant countdown to the summer: take a deep breath, don't you already feel the scent of spring?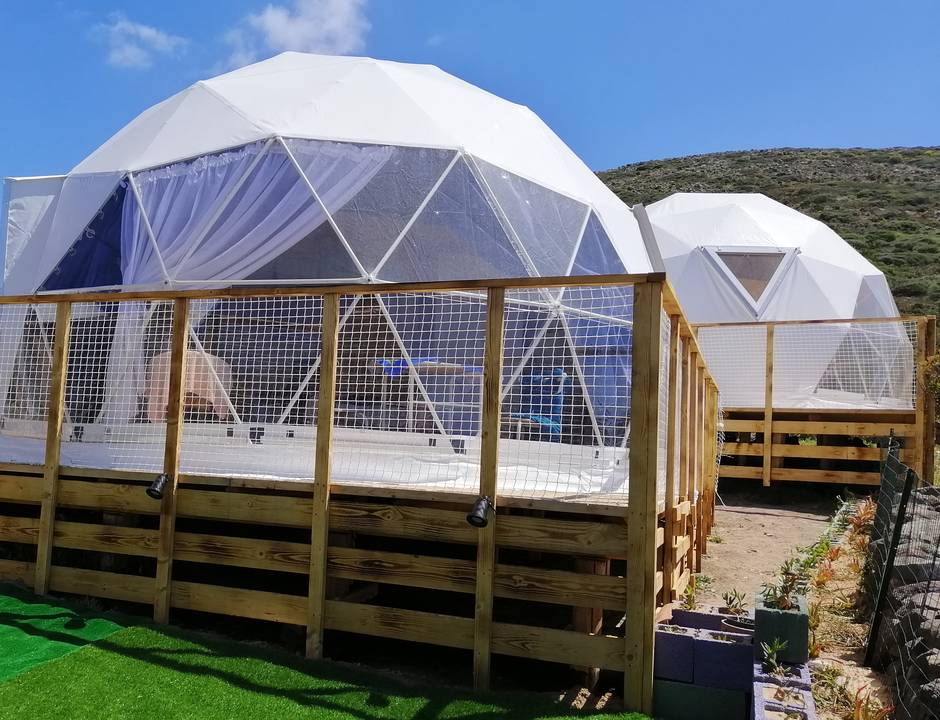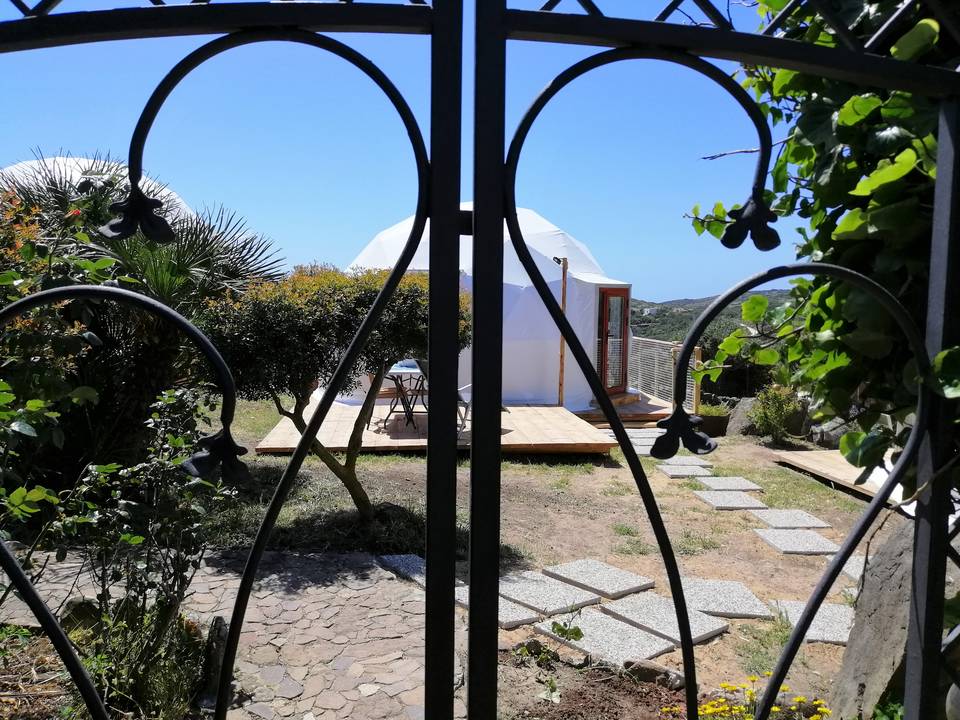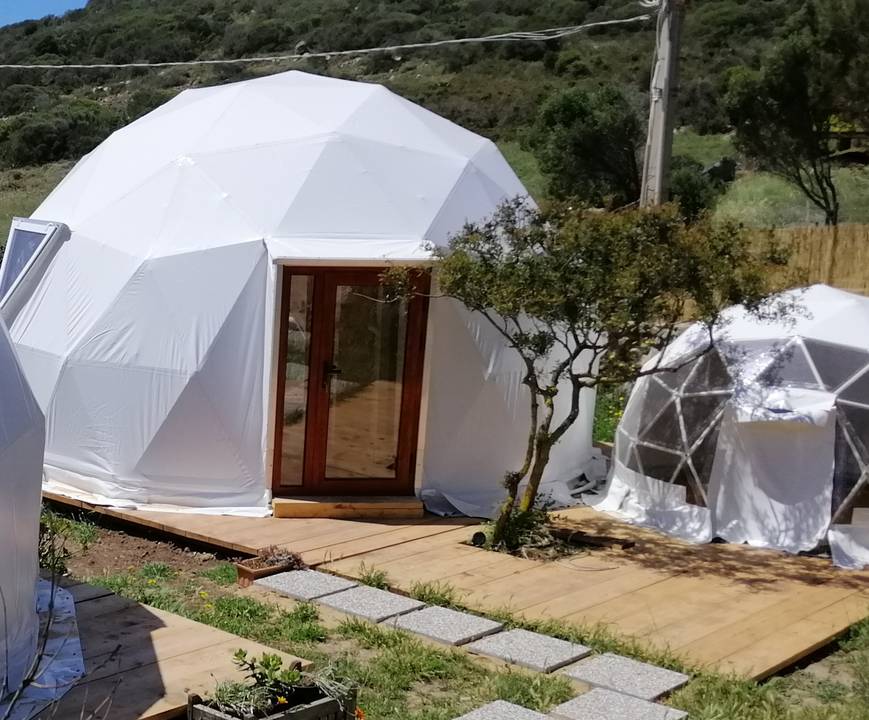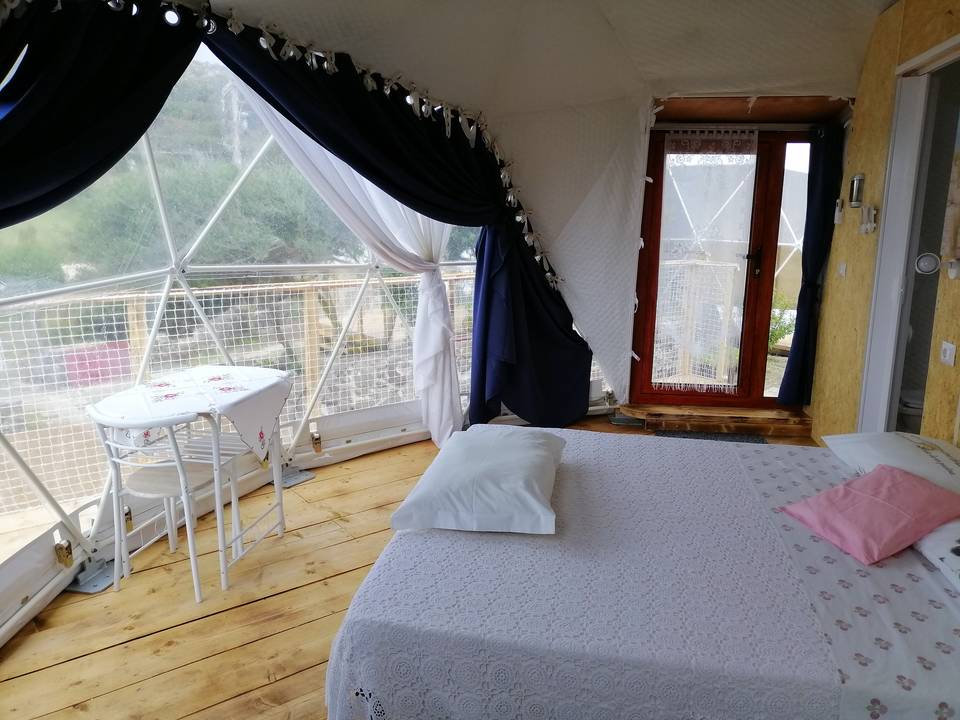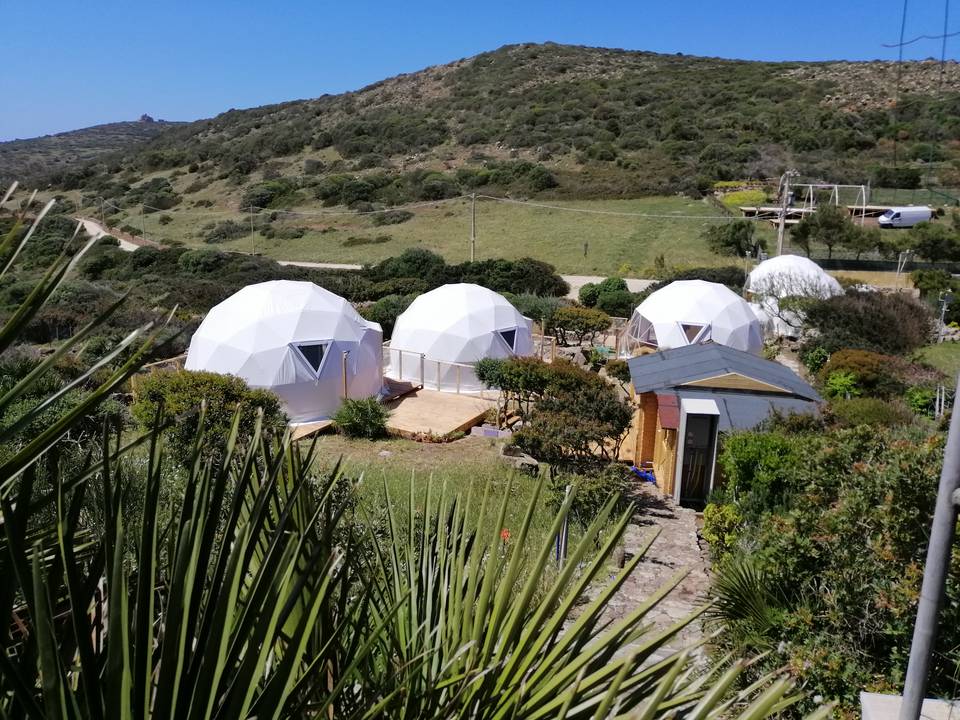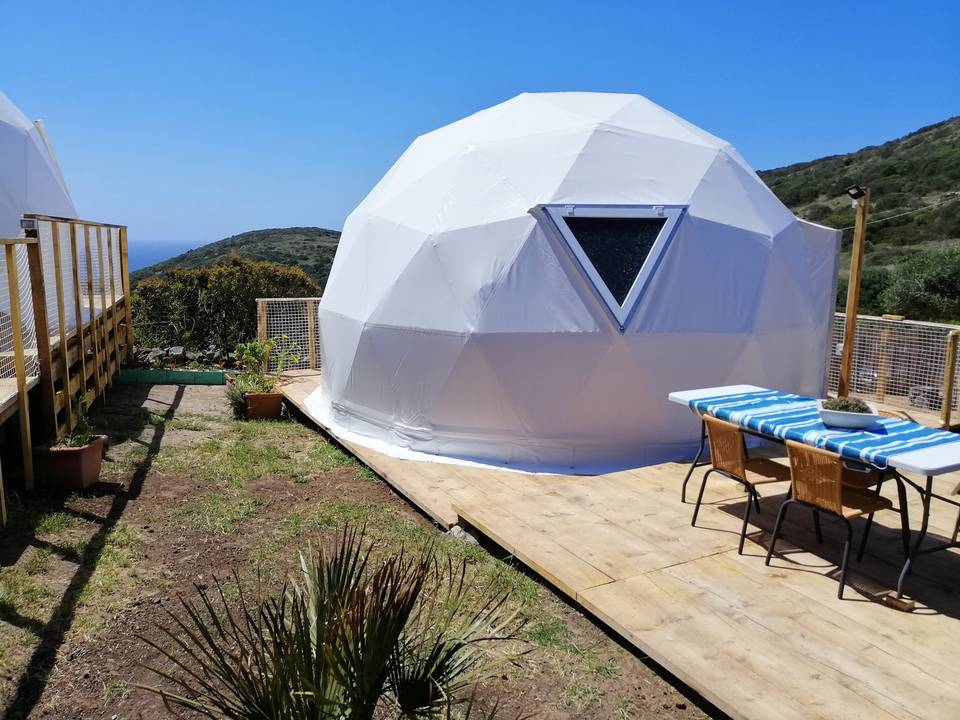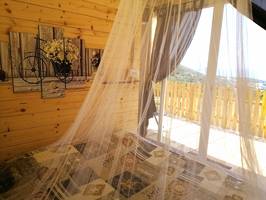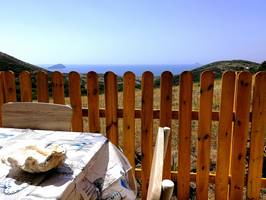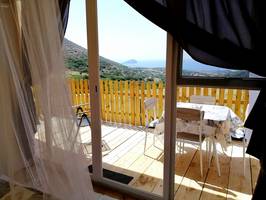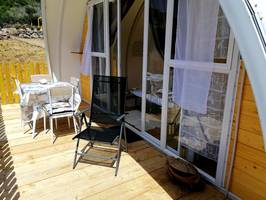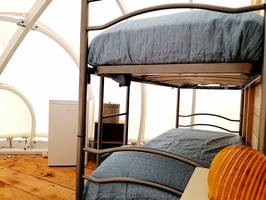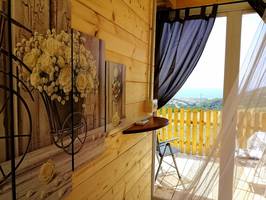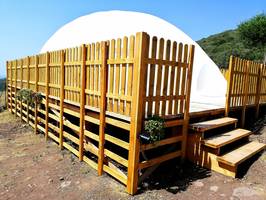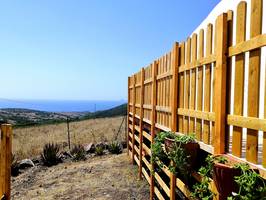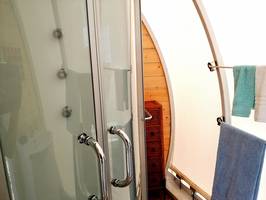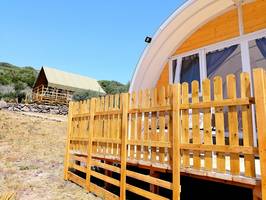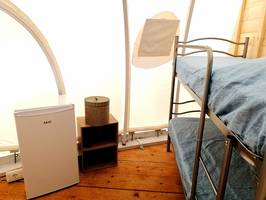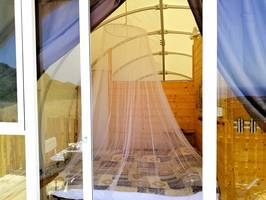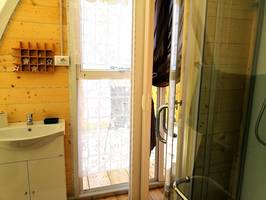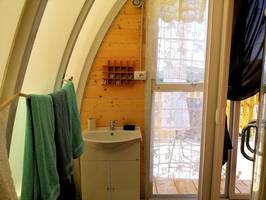 TOP 10 REASONS FOR CHOOSING US:
view: a gorgeous sea panorama makes you ready to jump in right away, and at night a romantic bright sky full of stars is something to dream on
tranquility: we are on a lovely hill overlooking the sea, in the countryside, where relaxation is granted
location: in the ideal position to reach in a few minutes all the most stunning beaches and inlets
comfort: our safari lodge tents are a really fun experience, never worry about giving up on comfort
services: small as we are, we can accommodate a few families, so we can afford the luxury of pampering you
all inclusive formula: no surprises at checking out time about your bill, all-inclusive services, free wifi
assistance: whatever you may need, we are pleased to advise you and help you. There is a lot to do, see and enjoy on this island ...
half season: in Sant'Antioco it's not only summer that's sizzling! We are also open in spring and autumn, favored by the mild climate and wonderful nature
prices: convenient and structured by season. You can choose the right one for you
offer: b & b, farmhouse, camping (truly exclusive, with the unique domes and "shell" in Sardinia)! Plenty of different solutions for families, couples, in short for everyone!
WHY WE ARE DIFFERENT:
We are not a mega village, but we can show you a bit of real Sardinia, still unpolluted and uncrowded: the blending between sea and countryside, within a couple of kilometers, will amaze you greatly. We are not for everyone, but for the lucky few who yearn a little corner of Heaven. You will not be disappointed
Treat yourself to the best: what do you want to do? Dining in a typical restaurant? A great excursion? A guided tour? To rent some vehicle? To practice a sport (sailing, diving, snorkeling, windsurfing, kitesurfing, horse riding)? A boat or a quad adventure? We are here for you. Get going! You are on holiday, relax, enjoy what Mother Nature offers you, a millenary history, colors, flavors, aromas, get in touch with your five senses and savor them all! It is our best wish to you for your well-deserved, wonderful, unique, stimulating holiday 2019!
OUR TENTS:
Two safari lodge tents, each for 4 people: large, occupying a space of approx. 9 m by 5.50 m. The private bathroom with shower allows comfort and privacy. In a separate space a bunk bed for two. A camping cot can be arranged for a small child. The bedroom is spacious and tastefully furnished, with a fridge. Outside, a beautiful sun-shaded veranda with table, chairs, deck chairs and everything you may need to relax, dine on and enjoy the unmissable marine panorama.
You've never seen a shell-shaped tent, have you? We do have it, of course it's called "shell": it's a very glamorous wonder, with a harmonious and captivating shape, even for 4 people. It occupies a space of approx. 8.40 m by 6.30 m, offering maximum comfort with air conditioning, double bedroom , a lot of charme, fridge. Furnished outdoor area to enjoy the blue shining sea in front of you.
A big geodesic dome, a spherical perfection, mathematical prodigy, 8 meters in diameter, a space of about 60 square meters, for all our guest is "the place": there you can enjoy breakfast and socialize, attend to a show, a fitness session, a massage. It is a recreational and relaxing area, with extraordinary acoustics; similar to an astronomical planetarium, it's perfect for stargazing, looking at planets, constellations and nebulae. Appreciated by yoga teachers and for meditation, by dancers, and by artists in general. It represents the ideal space for theme parties, ceremonies, meetings, shows. Ask us for availability for a special event, it'll be great.
WITHIN 3 KM FAR FROM US:
At our campsite the sea view is truly remarkable, with the small islands of the Sulcis archipelago winking on the glistening sea. You can immediately understand, from our location, which is "the beach of the day". Mistral wind? Coaquaddus, Maladroxia, Turri, Capo Sperone beaches are awaiting for you. Scirocco wind? Cala Sapone, Cala della Signora, Is Praneddas with its famous Arco dei Baci, Cala Grotta, Cala Lunga beaches are there for you, sheltered and alluring. Or you can start the day with a nice walk towards Semaforo di Capo Sperone, gorgeous 360° panorama, a perfect way to get in tune with the nature that surrounds you, admire the flight of birds of prey (above all the "falco della regina"), kestrels and buzzards (on top of the Mount Arbus also live a couple of pairs of eagles), spot some hopping bunny, or be lucky enough to meet a small fox or a shy, fast weasel. All this among multicolored birds: spectacular bee-eaters at migration time and the swallows that plow through the sky to fill up with insects. In some seasons, multicolored, almost fluorescent dragonflies will fascinate you. And what about the scent of the Mediterranean scrub? Lentisks, wild olive trees, phillyreas, yellow brooms, multicolored cysts, euphorbias (their color changes from soft green in spring, to turn to deep green, with yellow inflorescences, up to orange and red with the hottest season), a wave of sensations and different aromas will inebriate you. A somewhat more challenging walk leads to Porto Sciusciau, one of the most secret and charming corners on the island, usually reached by sea. Finally, history: close to us, in an environment of rare beauty, one of the most important and vast nuraghic basins in Sardinia: Grutti Acqua, with the nuragic lake, the sacred well, the protonuraghe, the huts. A few hundred meters from Grutti Acqua, the Su Niu 'e Su Crobu giants' tomb offers a glimpse from thousands of years ago and a stunning sea view. Several nuraghe all around here, some worth a visit. On top to all this, here we are! With our crops, really local ones; after all we are a farm, are we? We grow all the most tasteful aromatic herbs: you can't miss them on your table. Our aloes are great to treat a sunburn! And then the lovely lavender to perfume your linen, as our grandmothers did ... Finally the seasonal vegetables, fresh from our organic garden: if you've never tasted them, it's the right time! Just incredible? Not at all, simple beauty lives here.
SANT'ANTIOCO AND BEYOND:
If you want to go farer, more than 3 km., the seaside towns of Calasetta and Sant'Antioco, as far as a bit more than 10 km., so different from each other, with the Archaeological Museum, the Hypogeum village, the Tophet, the Basilica with the Catacombs, the bisso museum ... A lovely walk, also by bike, crosses the pond area and the salt marshes, with numerous waterfowl and flamingos. The beaches around Calasetta, Le Saline, Spiaggia Grande, Sottotorre. A trip by ferry or private boat to enjoy the Island of San Pietro, with Carloforte, a village of Genoese traditions, home of the famous Girotonno. And again, for half-day trips or for a full day, many other beaches: Porto Pino, Is Arenas Biancas, Capo Teulada and Cala Domestica, the rocky cliffs of Nebida with the faraglioni of Pan di Zucchero, the mining villages of Rosas, Su Zurfuru , Monteponi, the Henry Gallery at Buggerru, Porto Flavia, the breathtaking Is Zuddas and Santa Barbara caves. And more: so many churches in Iglesias, the Punic / Roman Temple of Antas in Fluminimaggiore, the archaeological park of Monte Sirai, in Carbonia, Tratalias with its cathedral of Santa Maria di Monserrato in Romanesque / Pisan style ... enough, let's stop here, there is more to say ... but let's leave something to your joy of discovering and adventure!!! Just a hint to the food and wine routes: these are the lands of Carignano del Sulcis, a powerful red wine, amazing sheep and goat cheeses, myrtle liqueur is made at home with the recipe handed down for generations, homemade ravioli and culurgionis, and certainly on this island you can't miss the fish (with the red tuna, king of the kitchen), the bottarga, why not to taste the cous cous? And still honey, sweets, typical bread ... truly mouth watering!